I had the absolute pleasure of checking out Momed for my momma's birthday this weekend. Sitting right off the railroad tracks in Atwater – you can actually see them pass periodically from the dining patio – was a modern Mediterranean visual and gastronomic feast for the eyes and taste buds.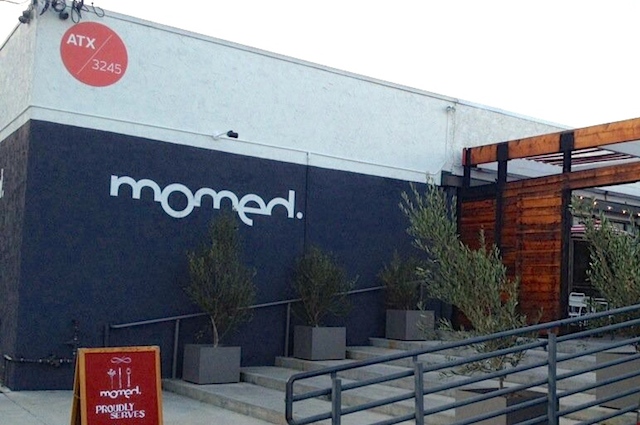 It was surprising to see Momed in this predominantly industrial/residential neighborhood located 4 long blocks away from Atwater's bustling epicenter of Glendale Blvd. For being one of the few businesses out here, it sure was pretty.


A soaring wall of horizontal wood in various shades of amber, opens to a beautiful and spacious open air dining patio with a double height "ceiling" with fans and hanging globe lights. To the left is an open air bar with striking Moroccan-ish tile work that spans the length of the restaurant. Perhaps a nod to their location, there are modern industrial elements like extensive use of concrete and iron to go with the loft like feel of a space with no walls.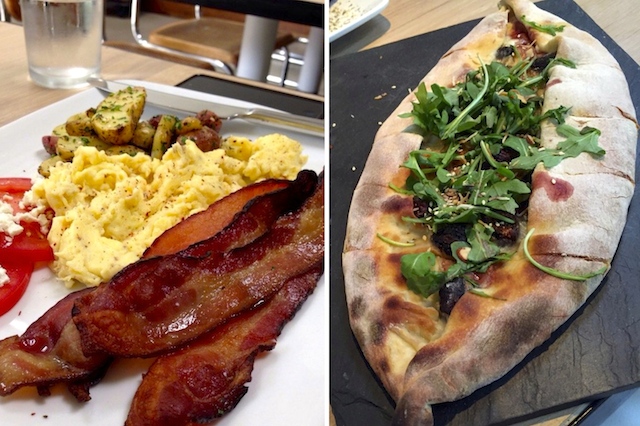 We tried several items, most notably, "the simple eggs with applewood smoked bacon and feta," the fabled "momo chips," "mezza trio" with eggplant, avocado hummus and tzatziki, the "Mediterranean breakfast," "quinoa mushroom scramble."


The eggs were perfectly prepared to an easy scramble. Bacon was extra crisp – without having to ask for it! Momo chips lived up to its crack status with equal parts garlic, course salt and parsley accompanied by ketchup and garlic aioli. The Mediterranean breakfast was a hearty helping of a cheese and olive lovers dream.


Finally, the lowly quinoa scramble. If there was ever a dish that sounded so unappetizing, it was this one. Sorry quinoa fans. A member of our party was actively dieting that day and had no choice. When it arrived, I was surprised by 1) how pretty it looked, 2) how yummy it smelled and 3) how delicious it tasted. I ate my words and soon after, a good amount of the scramble because that sucker was taste-eeee.
The best part about Momed, which I will visit again and probably this week, is that it's a rare jewel that combines great looks and fantastic food in a very casual, unpretentious way. This could very well be your super stylish dear friend's backyard because this is exactly how they made us feel. They make beautiful look effortless. And, great news human baby and fur baby parents – they heartily welcome both!
Momed, 3245 Casitas Ave., Los Angeles, 90039