I recently purchased a Moroccan chandelier that took a month to arrive from Fez and needed rewiring once it got here.

Since I'm not an electrician, I did my best to explain the situation to many highly rated shops across L.A. to no avail. I must have said "it's from the Middle East and the electric part won't work here" a dozen times before I was saved by snow-haired Leonard and his 68 5-star reviews for Garland Vacuum Sales & Service in Atwater.
The first thing you'll notice is how teeny tiny this store is right off of Los Feliz Blvd. I've driven down Los Feliz perhaps 10,000 times and never noticed it before. Bordered by India's Sweet & Spices and another old timey establishment, The Roost, this shop is straight out of the 1960s with a collection of appliances from a bygone era. The overhead fluorescent lighting, brown shaggish carpeting and the salt of the earth manner of the proprietor adds to the feel. Aside from lamps, Leonard also fixes appliances from microwaves to vacuums and what appeared to be a watch the day I went.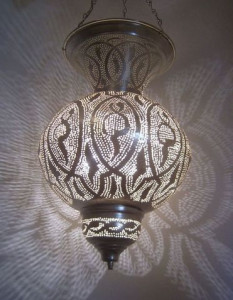 Upon entering, I was greeted by store dog Lucky–an adorable and very friendly poodle mix rescued by Leonard. He's that kind of guy. "He's the best dog in the world," he said.
Five minutes later he fired off a litany of repairs my lamp would need: a new socket, new wiring, new ground and on and on. "I'll take care of it," he said with such authority that I didn't even bother asking how much this intricate surgery would cost.
Two weeks later, I learned that my lamp needed a special part that he went out of his way to get in addition to everything else. "It's all ready," he said. Fearing the worst, I braced myself for what would surely be a $100 bill–I mean it had to be for a shop sitting on a prime spot on Los Feliz, right? "It's $24 and I'm not charging for the ground wire, but you need it so you don't get shocked!" He still managed to shock me. "$24?" I asked. "For all of that? Are you sure?!" Yep, he was sure.
Need something fixed for a fair price? Be sure to visit Leonard and Lucky in Atwater.
Garland Vacuum & Repair, 3106 Los Feliz Blvd., Los Angeles, 90039, (323) 953-1469