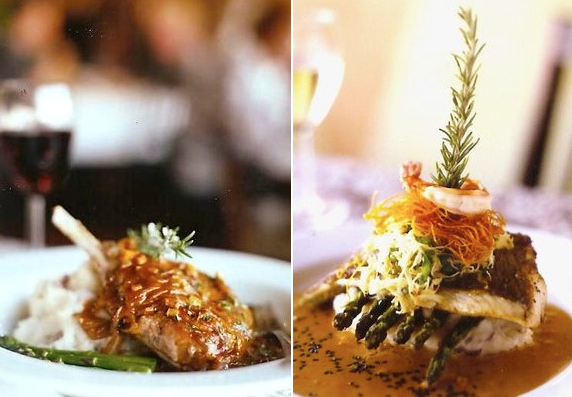 We hadn't planned on spending date night at Camilo's, but after years of saying, "we really should try it for dinner," Camilo's got lucky Wednesday night.

Located in Eagle Rock, Camilo's California Bistro is the classy brunch spot that you can take your parents to. Known for their fresh roasted coffee, potato enchiladas and banana foster waffles, Camilo's, as it turns out, might be an even better romantic dinner spot.


Cute and inviting by day, Camilo's, like the girl-next-door, transforms into a sleek and sexy little number by night. Enhanced by low lit and accent lighting, I instantly forgot that we regularly enjoy massive breakfast burritos and York omelettes here.
Dinner started with very generous pours of the house red ($8) and Chasing Lions Cabernet ($13)–save yourself the five spot, the house red was fabulous. I ordered the clear lentil soup garnished with mint ($5.95). Had I known the soup would be so savory, I would have ordered 2 bowls and called it a meal.
Next, we got the Red Thai Curry Snapper ($17.95) and the Pork Chop Normande ($21.95). In Camilo's tradition, servings were huge, colorful and beautifully plated. The snapper, which could have easily fed two, was fresh, moist and flaky with just enough seasoning to avoid muting the vibrant red curry. Ditto on the chop. Moist and delectable, it was hard to decide who had the better meal.


Rounding out the plates were fresh veggies, herbs and about 2 cups of some of most decadent (i.e. healthy doses of cream and butter) mashed potatoes in recent memory. It's hard to believe that while dinner was mind-blowing delicious, dessert literally took the cake.
We ordered the Hot Fudge Brownie Sundae ($6). Honestly, that pretty much says it all. It was the perfect ending to an evening of quiet conversation and canoodling over a fantastic meal in a pretty, but unpretentious setting.
Camilo's California Bistro, 2128 Colorado Blvd., Los Angeles, 90041