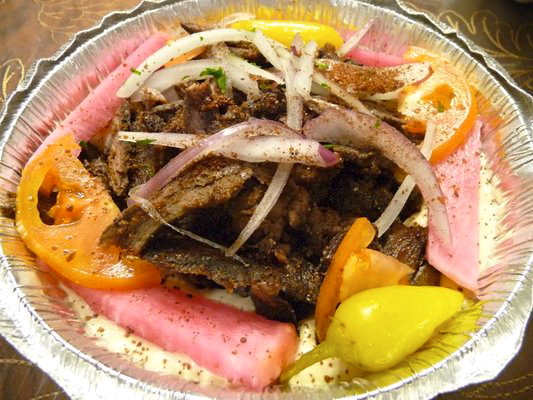 I really, really hate cabbage. I hate how it tastes, smells and more importantly, hate what it does to my insides.

Then we tried the cabbage salad/comped starter at Skaf's. OMG was that seriously cabbage? This can't possibly be the same cabbage salad that everyone's raving about? I mean think about. The very sound of it, "cabbage salad," conjures up images of week-old gruel at a Dickens orphanage. This was fantastic. Crispy, tangy, refreshing — a flavor enhancer to everything we ordered.


Speaking of unfortunate names, what about foul? The national staple of Egypt appears here at Skaf's and they totally knocked it out of the park. I tried foul in Egypt and didn't care for the thick, mushy, typically bland dish. Although still very rich, this was very flavorful. The nuances of onion, parsley and olive oil totally shined through when it could have been overpowered by the fava beans.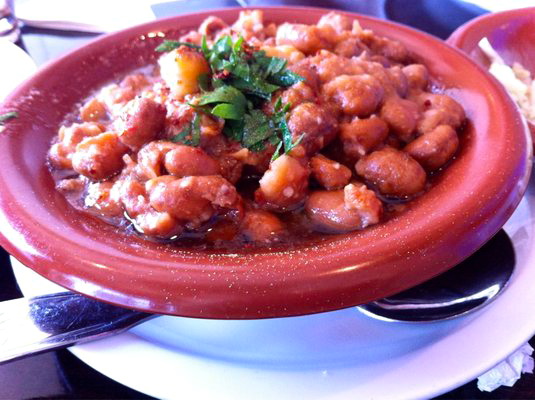 Now to the really great stuff. The kefta and the hummus with beef were SPECTACULAR!!!!! I've never had hummus where the meat used was shawarma — WOW! What a difference slightly crispy, yet tender meat makes. Totally bitch slaps the typical ground beef & pine nuts that's used for this dish.


We ordered the meat combo (beef kabob, chicken kabob and kefta) for $16.95. The kefta was star of the show. I'm not claiming this is anywhere near Raffi's excellence, but still very good. I particularly enjoyed the copious amounts of parsley and the crunchy, sea salt bits on the outside of the kefta.
With the apps ordered (foul, hummus with meat, comped pita & cabbage salad), 1 meat combo was more than enough for two. We even had leftovers — expect for the shawarma hummus dish which was licked clean.
Skafs Lebenese Cuisine, 367 N. Chevy Chase Dr., Ste A, Glendale, (818) 551-5540