From my experience, restaurants don't usually bring their A-game mid-week.
Our experience was quite the opposite at Bar & Kitchen in Downtown L.A. Though the restaurant had mostly cocktail drinkers and a smattering of diners on a Wednesday night, the food was fantastic and freshly prepared. There's a very nice wines-by-the-glass selection and assortment of craft beers.


The venue is typical nouveau DTLA: unassuming from the outside and sleek and loft-like on the inside. The dining room is separated from the bar by a beautiful floor-to-ceiling concrete fireplace that twinkles with glass rocks. For it's joity toity looks, the service was attentive, warm and friendly. The menu consists of all-American comfort food that's been modernized without losing its delectability or accessibility. No sad little (à la Westside) dime-sized nibbles on pretty plates here.


We ordered the prosciutto flat bread appetizer and it was amazing. Basically, it was a really good thin crust pizza topped with sweet and tangy cherry tomatoes and bedazzled with salty, porky goodness. It could have easily been a meal in itself. It was so satisfying that by the time my mega tender braised short ribs arrived, I was full. But not full enough to not nosh on my truffle tater tots ($8).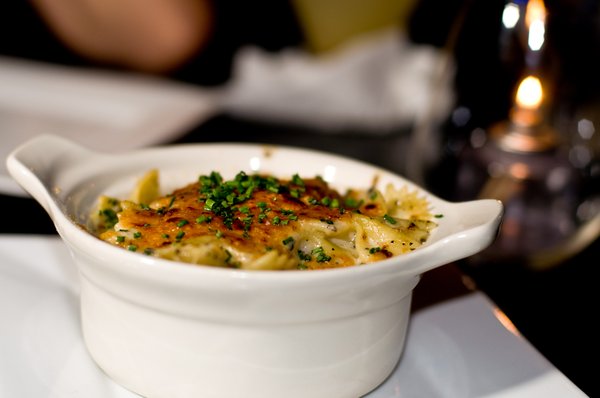 I need to preface this next part with the following. I'm biased. I firmly believe that tater tots are the greatest incarnation of the humble potato. If I see it on the menu, the eatery is already halfway to making me a very happy diner. I'm also a fan of truffle mac n' cheese ($8). That being said, my standards for mac and tots of the truffle varietal are very high.
When the heavens created the truffle, who knew that its soul mate would be the lowly tater tot and elbow shaped pasta? Like Jay-Z and Beyonce, Peter and Lois Griffin, it just works. So naughty, so crispy and so gone. I literally annihilated my carb allotment for the week in one meal, but it was totally worth it.
Bar & Kitchen, O Hotel, 819 S. Flower St., Los Angeles, 90017, (213) 784-3048