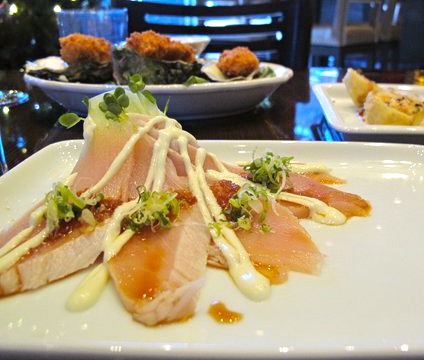 Simply put, Toro is my new favorite place for weekday/date night eats!
Ambiance, check. Huge venue with a lit up bar in the back. I'm always partial to restaurants that are packed with people, yet airy and breathable because of the tall ceilings. It was modern enough, but I'd wish they'd bump up the accent lighting and turn down the house lights a bit more. It was packed to capacity with a youthful crowd and lively music. Toro has that certain quality few places achieve: lively, nice enough, yet comfortable and familiar to become a regular spot.  

Tunes, 1/2 check. I could do without the blatant Top 40 and please, in the name of all that's holy, nix the Bieber and any act put out by Disney. But when they played kitchy LMFAO and Chemical Brothers alongside J-pop, that put a big, mega-watt smile on my face.


Sushi, food in general, DOUBLE CHECK! Rolls were run of the mill and on the small side, however, the fusion dishes and my udon were SPECTACULAR! We went to town and ordered a little bit of everything. Starters included the glazed wings and kobe sliders. Both won huge acclaim with the wings/sliders enthusiasts of our group. Entrees included a seared tilapia with a secret sauce that my beloved demolished. I was recovering from a cold and needed an udon. Generally, we all know that udon can be bland and lifeless. I ordered a chicken udon and opted for tofu tempura instead of shrimp. They forgot the chicken and brought me a tofu tempura udon.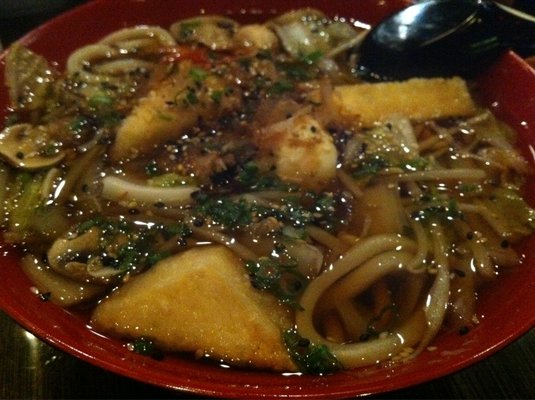 The moment I took my first ladleful sip of broth, the scowl on my face disappeared. I was literally dumbstruck by how delicious, complex and flavorful the broth was. I'm talking broth harboring on pho broth territory. YES, PHO BROTH TERRITORY. It was magnificent. Even more astonishing was the tofu tempura. C'mon people, what's blander right? Wrong. It was soooo delicious. That tempura just sopped up that broth like a mighty dinner roll. Needless to say, I was in heaven and ordered a second helping of tempura to finish off my udon.
Early reviews for this place pretty much faulted growing pains associated with new eateries (service, wait times, etc.) We experienced none of that. We were there on a Saturday night and it was a packed house. Instead of poor/slow service, we experienced Fogo de Chao-like service with our own private army of waitstaff. Drinks were never half empty, plates never settled and the food never stopped coming. LOVE IT!!!!!!!!!
Toro Sushi Bar Lounge, 2675 E. Colorado Blvd., Pasadena, 91107,  (626) 792-8676